The top space stories of the week!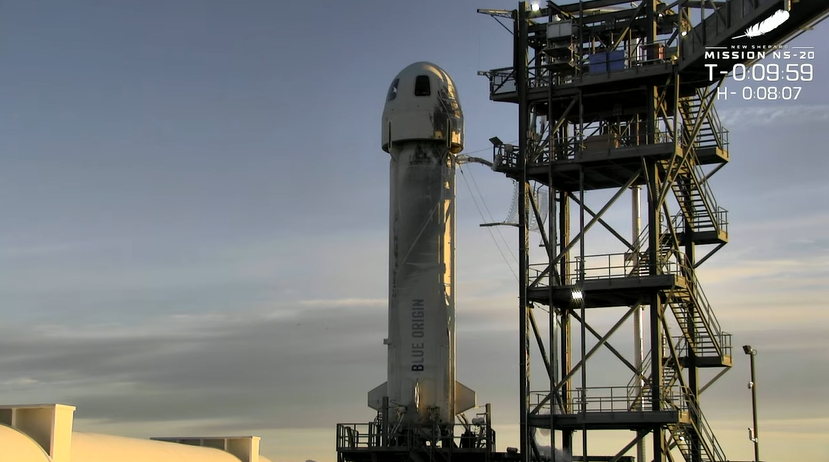 The space industry's sexual harassment problem, a Ukrainian student shifts from lab to military operations, and Biden drops his budget request for NASA in 2023 targeting a human Mars landing in 18 years. These are some of the top stories this week from Space.com.
Why the space industry has a sexual harassment problem(Image credit: Blue Origin)
In 2021, the space industry, in particular, was brought into the spotlight as continued reports of harassment were made public. In just a couple of examples, former SpaceX employees as well as a group of current and former Blue Origin employees publicly shared allegations of sexual harassment.
Full story: The space industry has a big, ugly sexual harassment problem
Ukrainian aerospace student shifts to military after lab work
(Image credit: Ihor)
Ihor's life has turned upside down since Russia invaded Ukraine on Feb. 24. As a Ph.D. student at Ukraine's top technology university, he used to work in the lab, but now he's part of a group helping Ukraine keep technical systems in top shape. Defense forces in Ukraine are trying to stay flexible amid the ongoing invasion.
Full story: Ukrainian aerospace student leaves lab to keep military tech in top shape
Biden requests $26 billion budget in 2023 for NASA with 2040 Mars landing target
(Image credit: NASA/Ben Smegelsky)
The White House has requested a $26 billion budget for NASA in 2023 to fund Artemis moon landings, Earth science and other programs, NASA said Monday (March 28). While the agency has plans to send humans to Mars by 2040, a key Mars sample return mission was delayed and there is a large gap between Artemis moon landings later in the 2020s.
Full story: Biden requests $26 billion budget for NASA in 2023 as agency aims to put astronauts on Mars by 2040
NASA astronaut Mark Vande Hei returns to Earth after record-setting mission
(Image credit: NASA/Bill Ingalls)
NASA astronaut Mark Vande Hei landed safely Wednesday (March 30) after a record-setting 355 days in space, more than any other U.S. citizen. He was aboard a Russian Soyuz capsule, with Russian colleagues Anton Shkaplerov and Pyotr Dubrov. The trio landed in the grasslands of Kazakhstan before Vande Hei began long journey to Houston to meet with his wife in person.
Full story: NASA astronaut Mark Vande Hei back on Earth after record-breaking mission
Blue Origin's NS-20 mission brings six people to space and back again
(Image credit: Blue Origin)
Blue Origin's fourth crewed spaceflight, NS-20, safely sent a group of six to suborbital space and back to Earth on Thursday (March 31). Five paying customers took the ride, along with longtime Blue Origin employee Gary Lai, the chief architect of the New Shepard vehicle that carried the group to space. (Lai took the place of "Saturday Night Live" star Pete Davidson, who backed out after a launch delay.)
Full story: Jeff Bezos' Blue Origin launches 6 people to suborbital space
Why female astronauts have different radiation level limits than women
(Image credit: NASA TV)
Why is there a lower career limit for radiation exposure for female astronauts than for male astronauts? A researcher suggests it came because a study showed women had more than twice the risk that men did of developing lung cancer, when both genders were exposed to high levels of radiation. The finding has had career consequences for some longtime astronauts.
Full story: Why does NASA let male astronauts stay in space longer than females?
If Webb spots planetary methane, researchers discuss life's potential
(Image credit: NASA/ESA/R. Hurt (IPAC/Caltech))
If an exoplanet's atmosphere has methane in it, the chemical could be a sign of life — but the planet needs to meet certain criteria. Researchers released details of how to assess that life potential as NASA's recently launched James Webb Space Telescope continues commissioning, as Webb may be able to spot these signatures on other worlds when it starts work later this year.
Full story: NASA's new James Webb Space Telescope will be able to sniff out methane. Here's how to tell if it's a sign of life.
NASA's SOFIA flying observatory faces cancellation (again)
(Image credit: NASA)
The White House's 2023 federal budget request for NASA, released Monday (March 28), is asking to draw the curtain on missions from NASA's Stratospheric Observatory For Infrared Astronomy (SOFIA). The modified Boeing 747 jet has faced cancelations before, but this time might be different due to a recommendation from the astrophysics decadal survey in November 2021.
Full story: NASA's SOFIA flying observatory would get the ax (again) in 2023 budget request
Axiom's debut mission delayed to April 6
(Image credit: Axiom Space)
Testing for a NASA moon rocket pushed back the first mission of Axiom Space. Ax-1 will now lift off no earlier than April 6, three days later than originally planned. The delay will make room for for the crucial "wet dress rehearsal" of its Artemis 1 moon mission, expected to conclude on Sunday (April 3), Ax-1's target launch date.
Full story: SpaceX's Ax-1 astronaut mission to the space station delayed to April 6
Next China moon mission plans precision landing for ice hunting
(Image credit: CASC/China Ministry of Defense)
China's planned Chang'e 7 lunar mission is scheduled to launch around 2024, sending a spacecraft with precision to the lunar south pole while imaging the moon from orbit. "A major goal is to find water at the south pole of the moon," Wu Weiren, chief designer of China's lunar exploration program, told China's CCTV during the country's annual political sessions in early March.
Full story: Next China moon mission will need precision landing to target ice at south pole
Follow us on Twitter @Spacedotcom and on Facebook.
Source: space.com