Upcoming sci-fi movies for 2022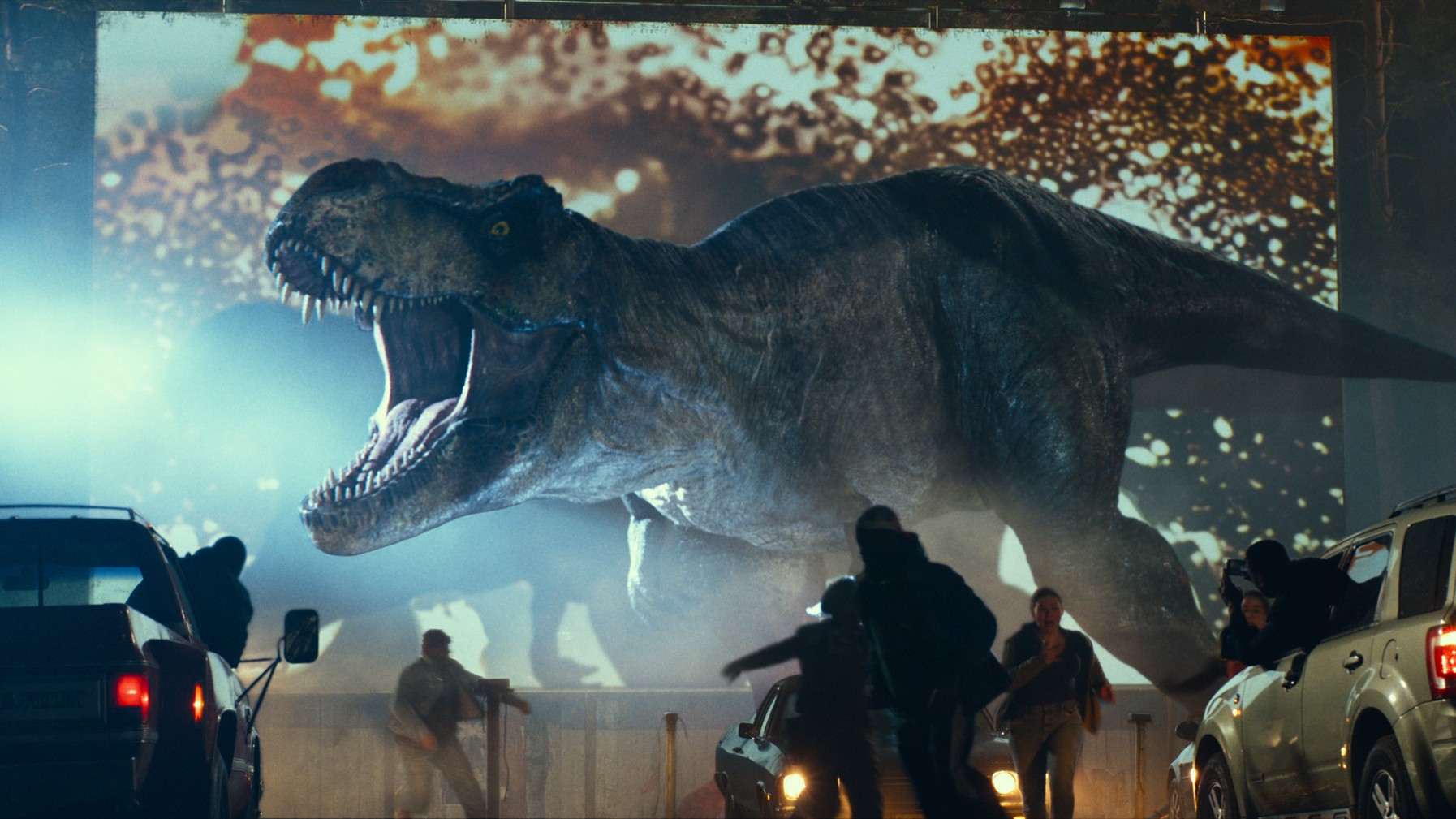 It's already been a big year for movies, and that's set to continue thanks to these upcoming sci-fi movies for 2022.
So far, we've straddled timelines with The Adam Project and stood at the brink of human extinction with Moonfall, but there's plenty more where that came from. With sci-fi movies, you're offered the opportunity to travel to places you might not even imagine possible, live out dreams (or nightmares) in worlds that look eerily like our own, and exist in twisted realities or futures beyond our imagination.
In 2022, the opportunities for experiences like this are boundless. From new additions to the MCU to sensational sci-fi animation to a sequel movie fans have been waiting over a decade to enjoy. As such, we felt it our duty to formulate a list of the upcoming sci-fi movies for 2022 that will have you reaching for your calendar and marking the dates.
Whilst there's plenty of movies on offer, there's also TV shows you won't want to miss, which can be discovered in our list of the upcoming sci-fi TV shows. And if you're at a loose end whilst waiting for some of 2022's big releases, there's the best sci-fi movies of all time to work your way through too. For now, let's delve deep into 2022's sci-fi movie schedule.
Moonshot
(Image credit: Warner Bros.)Release date: March 31, 2022Cast: Cole Sprouse, Lana Condor, Zach Braff
A little something different for the list of upcoming sci-fi movies for 2022 with the sci-fi rom-com, Moonshot, which is set to depict life and love on Mars. Starring teen drama favorites, Cole Sprouse of Riverdale and Lana Condor of To All the Boys I've Loved Before, we look to a future where Mars has been colonized and now houses the best of the best humans who once populated Earth.
Two college students (Sprouse and Condor) hitch a ride, sneakily, to the red planet to seek out their other halves. We know very little else about Moonshot at this time (there aren't even any promotional shots out yet). What we do know is that Moonshot will head straight to HBO Max with its premiere on March 31.
Morbius
(Image credit: Disney/Marvel)Release date: April 1, 2022Cast: Michael Keaton, Jared Leto, Adria Arjona
We're back in the Marvel Cinematic Universe (MCU) with the introduction of a new superhero, biochemist Dr. Michael Morbius. Like many of the superhero origin stories, it's an experiment gone wrong as Morbius attempts to cure his own rare blood disease but instead ends up infecting himself with a form of vampirism from bats. Jared Leto becomes Morbius, fronting the movie and introducing the world to the dark nature of The Living Vampire, and presumably some superhuman strength, speed, and acute senses to show off.
And, like many MCU movies, there's hints at more crossover with Michael Keaton aka The Vulture making an appearance in the teaser trailer. Originally slated for January, Morbius has since been delayed to April.
Apollo 10 ½: A Space Age Childhood
(Image credit: Netflix Animation)Release date: April 1, 2022Cast: Zachary Levi, Jack Black, Glen Powell
In 1969, man landed on the moon for the first time. Well, how about a tale of a boy who lived through those times? In Apollo 10 ½: A Space Age Childhood, also known as just Apollo 10 ½, we get just that. Through this coming-of-age animation, a man recounts his childhood as a ten-year-old boy growing up in Houston at the time of the Moon landing. Not far off from reality for the writer and director of this movie, Richard Linklater (Boyhood, Dazed and Confused), who did in fact grow up in Houston in the 60s. Apollo 10 ½ delves into nostalgia of the time through the eyes of an innocent child.
Everything Everywhere All at Once
(Image credit: AGBO)Release date: April 8, 2022Cast: Michelle Yeoh, Jonathan Ke Quan, Jamie Lee Curtis
Produced by the Russo Brothers and directed by Daniel Kwan and Daniel Scheinert, known collectively as the Daniels, this upcoming sci-fi flick follows a Chinese-American woman as she's quite literally everywhere all at once in this insanely hilarious venture spanning across multiple universes.
If that wasn't enough warped escapes for you, the movie revolves around her just trying to finish her taxes. A tumultuous task at the best of times. Everything Everywhere All at Once looks set to marry laughter, adventure, and sci-fi in some great trifecta of film greatness.
Everything Everywhere All at Once has already had a limited release in the US on March 25, but the full release is coming up in April.
Chariot
(Image credit: Scarlett Pictures)Release date: April 15, 2022Cast: John Malkovich, Rosa Salazar, Thomas Mann
Chariot is an upcoming sci-fi for 2022 that looks at John Malkovich, a doctor that oversees the process of reincarnation. All is running seemingly smoothly until a glitch in the system occurs as a young man (Thomas Mann) encounters a woman (Rosa Salazar) whom he loved in a previous life and throws the whole concept into turmoil.
We don't know too much about this one just yet, but what we do know is that director Adam Sigal is very passionate about sci-fi, even publishing his own sci-novel at the age of 18, so add this to your must-watch list of upcoming sci-fi movies for 2022.
Doctor Strange in the Multiverse of Madness
(Image credit: Marvel Studios)Release date: May 6, 2022Cast: Benedict Cumberbatch, Rachel McAdams, Elizabeth Olsen
2022 is slathered with MCU goodness and we've got more for you with the next instalment of Doctor Strange's journey: Doctor Strange in the Multiverse of Madness. We've talked about the multiverse with the new Spider-Man movie and Doctor Strange's role in that, but with this movie it seems we'll be going even deeper as Benedict Cumberbatch reprises his role as Dr. Stephen Strange. Now would definitely be a good time to refresh your memory by watching the Marvel movies in order.
With some more space-time continuum warping and even more research into the Time Stone, an unspeakable evil is unleashed on the MCU and we know that Elizabeth Olsen's Wanda Maximoff (aka Scarlet Witch) will have a big part to play.
Jurassic World: Dominion
(Image credit: Universal Pictures)Release date: June 10, 2022Cast: Bryce Dallas Howard, Chris Pratt, Daniella Pineda
Jurassic World: Dominion marks the third in the Jurassic World trilogy, four years on from Jurassic World: Fallen Kingdom in 2018. Fallen Kingdom ended on a cliffhanger with the dinosaurs being let loose into the world and so we know Dominion is set to pick up where it left off.
There's only a teaser trailer out for now so we're not quite sure what to expect but it doesn't feel too wild to suggest some Jurassic staples with epic dinosaur fights and breath-taking CGI in this one. And, we imagine, some more romance between lead actors Bryce Dallas Howard and Chris Pratt. Hold onto your butts!
Lightyear
(Image credit: Disney/Pixar)Release date: June 17, 2022Cast: Chris Evans
Will we ever have enough of Toy Story? In 1995, Pixar's first feature-length movie introduced the world to Buzz Lightyear of Star Command and his adventures with the toys of Andy's bedroom, namely Woody the cowboy. Well, Buzz is getting his very own spin-off movie in 2022 that invites viewers to the origin story of Buzz from test pilot to the ultimate Space Ranger that we know and love.
For this one, the voice acting reins have been handed over to Chris Evans instead of Buzz original, Tim Allen, so it'll be interesting to see and hear Buzz in a whole new light(year).
Distant
(Image credit: Universal Pictures)Release date: September 16, 2022Cast: Anthony Ramos, Naomi Scott, Zachary Quinto
Andy (Anthony Ramos) is an asteroid miner who finds himself crash landing on an alien planet that a human wouldn't want to find themselves stranded on. He must navigate his way across the planet, all whilst running out of oxygen and being pursued by strange lifeforms, with hopes of finding the one other survivor, Naomi (Naomi Scott) whom he connects with over radio on his AI survival suit (voiced by Zachary Quinto). It's not uncommon that sci-fi movies can leave us holding our breaths (like Gravity or Interstellar), but Distant looks set to create a space where we could be doing it throughout the duration of the movie.
Spider-Man: Across the Spider-Verse (Part One)
(Image credit: Sony and Marvel)Release date: October 7, 2022Cast: Shameik Moore, Hailee Steinfeld, Oscar Isaac
Not to be confused with Spider-Man: Into the Spider-Verse, this is the sequel that follows on from the final teaser scene where (spoiler alert) Gwen calls out to Miles Morales through a portal to another universe, and Spider-Man 2099, teased at the end. It's a two-parter as Miles continues to hurtle across the Spider-Verse, and according to the official description will "join forces with Gwen Stacy and a new team of Spider-People to face off with a villain more powerful than anything they have ever encountered." Our Spidey sense is tingling for this one.
Black Adam
(Image credit: DC Entertainment)Release date: October 21, 2022Cast: Dwayne Johnson, Sarah Shahi, Pierce Brosnan
Dwayne "The Rock" Johnson storms into the DC Extended Universe as anti-hero, Black Adam. It's been a long time in the making with Black Adam originally set to appear in 2019's Shazam! as the titular character's archenemy. But, who is Black Adam? Well, origin story wise, he's Teth-Adam, a fighter from the fictional Khandaq, who is given powers by the Wizard Shazam as he seeks a home for his powers to protect ancient Egypt. The powers prove too strong, imprisoned for 5,000 years, until now… in Black Adam, he's unleashed on the world, seeking revenge. Teaming up with a bunch of heroes like Atom Smasher, Hawkman, Doctor Fate, and Cyclone, who form the Justice Society of America, Black Adam will show us what being an antihero is all about.
Avatar 2
(Image credit: 20th Century Studios)Release date: December 16, 2022Cast: Zoe Saldana, Sam Worthington, Kate Winslet
Avatar is reportedly the most expensive movie ever made and only lost its box office crown for the top-selling global release of all time in 2019 when Avengers: Endgame took top spot. 13 years on, we're getting Avatar 2 with another incredible budget of 250 million dollars to bring the story back to life on the big screen.
Sam Worthington and Zoe Saldana reprise their roles as Jake Sully and Ney'tiri as we learn they've now formed their own family in Pandora. But all is not well in this sequel as an ancient threat forces them out of their home and ignites a war that must be fought against the humans. We've waited a long time for this one.
Prey
(Image credit: 20th Century Studios)Release date: 2022 TBCCast: Amber Midthunder, Dane DiLiegro, Stefany Mathias
From the Predator franchise comes the fifth instalment and a brand-new prequel, Prey, directed by Dan Trachtenberg of 10 Cloverfield Lane fame. This time round, we're heading back 300 years to the Comanche Nation, a Native American tribe, and focusing on one member in particular, a skilled female warrior called Naru (Amber Midthunder). Naru will fight to protect her tribe against the extraterrestrial Predator that is threatening their existence. Prey acts as an origin story for the first time the Predator was discovered on Earth and is a long-awaited addition to the iconic sci-fi franchise. Whilst we don't have an exact release date, we do know it's coming out Summer 2022 exclusively on Hulu.
65
(Image credit: Lucasfilm)Release date: April 14, 2023Cast: Adam Driver, Ariana Greenblatt, Chloe Coleman
Up next, sci-fi thriller, 65, which follows an astronaut (Adam Driver) who crash lands on a mysterious planet only to find out that he's not alone. Whilst it's a sci-fi genre specialty to ask the age old 'is there anybody out there?' question, we're weirdly excited for this movie because, apart from this little bit of info, there's a mysterious lack of plot details. There are also no official shots of the movie yet, so please enjoy this shirtless picture of Adam Driver.
As this movie has the impressive Adam Driver (of the Star Wars sequel trilogy) up front and center, and the very talented screenwriters behind A Quiet Place, we have a feeling this is one that is not to be missed. If you're looking for an unnerving experience, we have no doubt this team can provide it.
Source: space.com